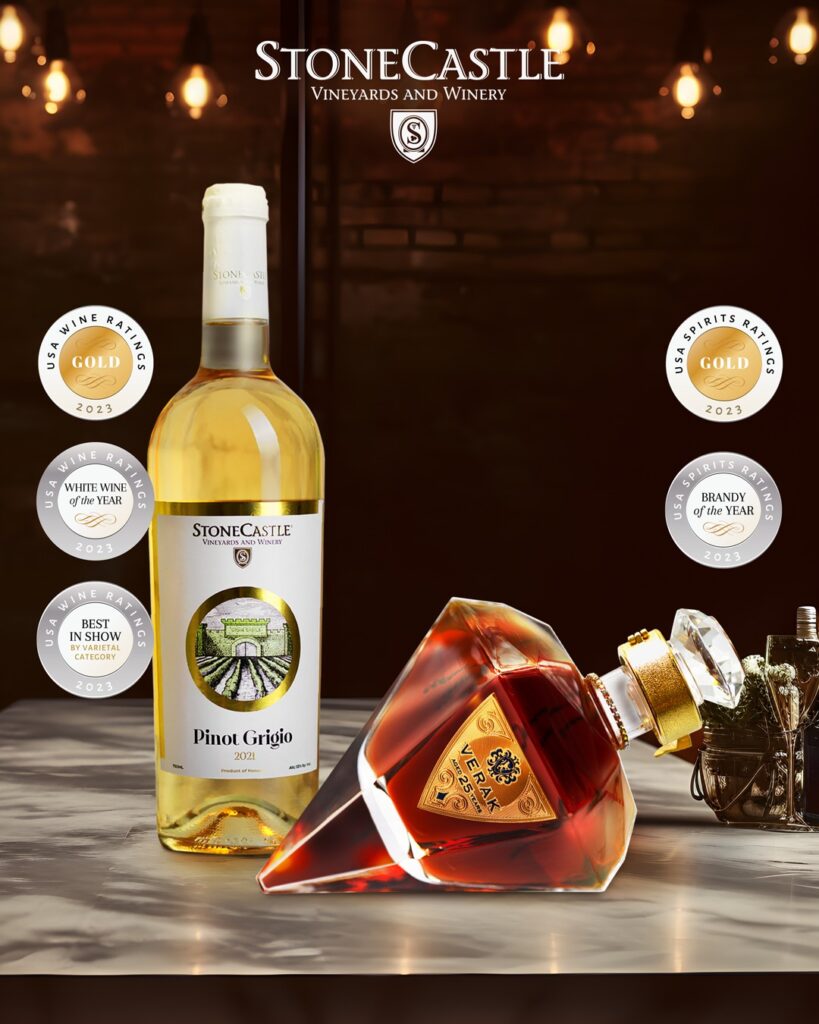 An international standard name that truly embodies the passion for producing wines and alcoholic beverages of excellent quality – Stone Castle Vineyards & Winery – has triumphed in many prestigious international competitions. This time, in the renowned American competition of wines and strong alcoholic beverages, "USA Spirits & Wine Ratings 2023," Stone Castle's quality and creativity have once again been recognized, receiving "Gold" and "Silver" awards.
In 2023, Stone Castle Vineyards & Winery received a series of significant awards for its wines and alcoholic beverages. Among the winners is Pinot Grigio, a dry white wine, which received several awards:
USA Wine Ratings: Gold Medal
White Wine of the Year: Silver Medal
Best in Show by Varietal Category: Silver Medal
At the same time, the 25-year-old Verak, an example of Stone Castle's ability to create exceptional and high-quality alcoholic beverages, also achieved recognition with several high awards:
USA Spirits Award: Gold Medal
Brandy of the Year: Silver Medal
This is just a summary of the many wines and alcoholic beverages that Stone Castle Vineyards & Winery has successfully brought to this prestigious competition. In addition to Pinot Grigio and 25-year-old Verak, products like Gecaj Estate Owner's Choice, Gecaj Estate Chardonnay, Gecaj Estate Grand Vranç, Shiraz, Sparkling Wine, and many others have triumphed in various categories, demonstrating Stone Castle's unwavering commitment to creating exquisite tastes and exceptional quality.
For the range of products that stand out at Stone Castle Vineyards & Winery, one thing is certain: the passion for producing high-quality wines and alcoholic beverages is relentless, and you will experience it in every glass. If you are a high-quality wine enthusiast and wish to explore the wonderful taste of Stone Castle products, we invite you to visit this exceptional winery in Rahovec, where you can experience a rich history in each bottle.